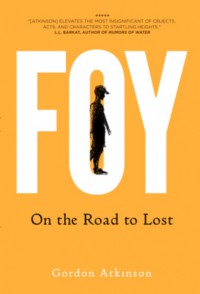 This is one of those books that would certainly have passed me by if I hadn't requested it for review from Audiobook Boom. The bright orange cover is appealing but I don't think the content would have been able to compete against the huge publicity machine that is today's book industry.

Fortunately it caught my eye as a freebie and I thoroughly enjoyed listening to the ruminations of Foy on everything from his childhood as the son of a Baptist Minister, to his following in his father's footsteps, to his questioning what he does and does not actually believe - and leaving the ministry.
It's not at all preachy and has a very genuine, human feel to it. Foy is generous hearted and considerate and I particularly liked the episode where he spent time with a man who was dying of aids.

By the time the audio was finished I felt as if I was losing a friend and I hope I shall be able to follow this with more excerpts from Foy's life in the future.
An interesting comment caught my eye in the acknowledgements - only his wife knows how close, or otherwise, Foy's character is to the author's.

Talking of acknowledgements, I should make a mention of the excellent narration by Karl Miller.
Thank you to Audiobook Boom, the publisher, Material Media and Audible for my free copy in return for an honest review.