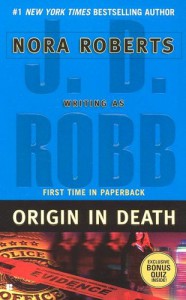 I came across a CD version of this book, quite by chance, and decided to listen to it in the car. I'm not a great fan of detective stories generally, so I was really surprised how much I enjoyed this.
It was number 21 of an ongoing series (now on 45), and I had wondered about picking up a book in the middle, but although I did have some unanswered questions about the back-story, it wasn't too much of an issue.
There is a bit of a red-herring at the beginning, but it allows detective Eve Dallas to be in the right place at the right time for the main crime - the murder of Dr. Wilfred B. Icove, head of the multi-million dollar, Wilfred B. Icove Center. His murder is clean, precise and efficient - a swift stab to the heart with a scalpel. But who is the murderer and what is the motive?
His son inherits his father's business, only to be murdered himself, soon after.
The audiobook was excellently narrated by Susan Ericksen, especially when it came to the visit of Eve's husband, Rourke's Irish relatives for Thanksgiving.
The series starts in 2058 and although I don't usually favour dystopian novels either, this instantly enveloped me. The characters are excellent and I found myself researching into their backgrounds on Wikipedia.
I will definitely read/listen to more of this series in the future.
Also read, by the same author (writing as Nora Roberts):
Midnight Bayou (4 stars) - abridged audio
Hidden Riches (2.5 stars) - abridged audio